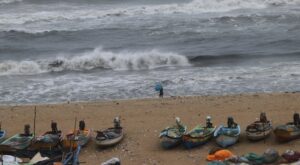 Though it has been raining steadily all through the night and on Wednesday morning, there was little water flooding or stagnation in many areas of the Mylapore when we made a round at about 9 a.m.
The rainwater stays on streets and roads but runs off fairly quickly into the drains.
However, some areas face stagnation. This morning we saw this scene at the west end of Dr Ranga Road, in Karaneeswarar Koil Street zone and in Abiramapuram – people said the drains were either not built or desilted here.
Civic staff were seen doing the rounds of areas that needed attention.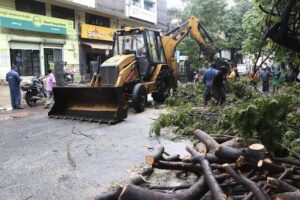 On Kutchery Road, a couple of roadside trees that had collapsed had to be chopped into pieces and carted away.
Visibility was very low off the Marina Beach Loop Road as the rough sea's spray floated across the shore.
Police patrol vans did the rounds of the Loop Road using their public address system to warn people of the seaside conditions and asking them not to venture out to sea.
None of the fishers had gone out to sea since yesterday, save the odd one on Tuesday. One saw dozens of boats parked on the shore.
Water has been flowing into the temple tanks and the Chitrakulam , which was dry even yesterday is now holding a thin sheet of water.