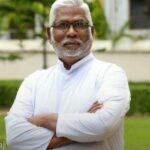 Rev. Father J. Maria Amalraj, Vicar General of the Archdiocese of Madras-Mylapore for Catholics  passed away this Tuesday morning, Nov.17.
He was 71. He completed 42 years of priesthood.
He was born to  L. Joseph and Pushparathinam Ammal and belonged to Our Lady of Guidance Church parish (also known as Lazarus Church0 in R A Puram.
He was ordained as a priest in the year 1978 in the R A Puramparish. He served in various parishes like those of K. G. Kandigai, Chengelpet, Mambakkam, Ambattur, Besant Nagar, Kilpauk, Thanikkachalam Nagar and Mathur.
He also served as rector of the junior seminary.
He was appointed as Vicar General of the Archdiocese at Madras-Mylapore in 2019. He has the credit of renovating many churches  and community halls and was known to be a very humble and simple priest who was engaged in a lot of charitable activities and service to the poor and needy.
His  body was kept for public homage in the San Thome Pastoral Centre from 11.30 am to 6.30 pm. on Tuesday.
The funeral Mass will be held on Wednesday at 10.30 am at the San Thome Cathedral.
– Report by Juliana Sridhar