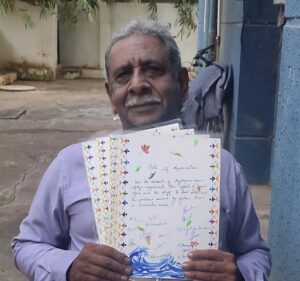 It may be a tad late in the day but this Thank You has to be said.
On behalf of the Mylapore community, a couple of community activists have created Thank You appreciation certificates and will present these to the heads of the local area offices of TANGEDCO, Metrowater, Police, Chennai Corporation and Urbaser Sumeet.
The gesture is to acknowledge their role in addressing civic issues when cyclone Nivar and the subsequent rains disrupted life in many areas of Mylapore.
During that period, police, civic and other staff were seen at work even as the cyclone was at play and the rain came down – to move out fallen frees, clear flooding and set right power supply disruptions.
The hand-made certificate was designed by Adyar-based artist V. V. Ramani voluntarily and activist Baskar Seshadri went around getting signatures of Mylaporeans who subscribed to the sentiments of saying 'thanks'.
Baskar will present these certificates to the officers this week.