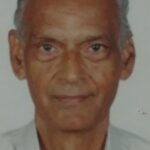 Retired banker  D. V. Balakrishnan passed away on December 9. He was 81 years old. He retired from Indian Bank as AGM (Vigilance).
He had a profound knowledge of Carnatic/classical music though he did not have formal training in this art form.
He was an ardent fan of actor-singer M.K. Thyagaraja Bhagavathar and made many video presentations on MKT as the star was known fondly; these were presented to the public at events run by Vintage Heritage, of which he was a founder member.
He wrote a book titled 'MKT Bhavathar Isaiyum Vaazhvum' in 2018 and was an expert in Vedic astrology.
In his youth, Balakrishnan and his friends had formed 'Star Cricket Club' ( in 1953 ) and the team played in many tournaments. The team members practised cricket in the ground at the rear of the Chettinad palace in MRC Nagar.
Being passionate of cinema, Balakrishnan often joined his friends to watch a special midnight special show at Kamadenu Theatre in Luz and then proceed to the Rishaba Vahana procession at Sri Kapali temple where they were also volunteers. This group did the same on Vaikunta Ekadasi day at Aadi Kesava Perumal Temple's swarga vasal event – sit for a midnight show and then volunteer at the temple.
One of his hobbies was to write Thamizh comedy  plays.
Balakrishnan schooled at P. S. High School and his family members have been residents of Mylapore for some 90-plus years.
He is survived by his wife and two sons. Contact Suresh Balakrishnan – 9884604800
– Report by V. Vasantha; she is the youngest sister of Balakrishnan.