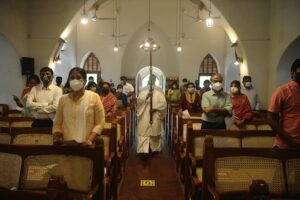 CSI St. Thomas English Church in San Thome resumed worship in Church on Sunday, 8 November 2020, with the annual Thanksgiving festival. This after a break of some seven months.
Several restrictions have been put in place, in adherence to the government pandemic time regulations.
Children below 11 years and seniors above 65 years cannot be present, in keeping with the safety operating procedure. Those who wish to attend worship service have to register online through a link that is shared earlier during the week.
The church has also implemented various safety measure like allowing admission only to those wearing masks, temperature check, one-point entry, sanitizer facility and social distancing, with stickers marking safe distances in the premises.
The Holy Eucharist has been suspended, hymn books are avoided and offertory is collected in a box kept in front of the altar.
Christmas programmes like carol service, parish dinner and carol rounds have been cancelled this year, and the congregation is planning to reach out to village congregations instead with plans to donate this Christmas.
Livestreaming of worship services continues on Zoom and YouTube, for the benefit of those unable to attend.
The services are available on the YouTube channel: https://www.youtube.com/channel/UClgEYm_2AOcN12B6QpJsntg
Report by Fabiola Jacob

YOU TOO CAN REPORT local events – community meets, serious civic issues, people making news, etc. Mail to – mytimesedit@gmail.com