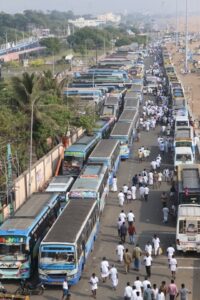 Tens of hundreds of AIADMK party cadres and their families have been arriving in the city since early this morning to take part in the opening of the memorial dedicated to late AIADMK leader and former state chief minister J. Jayalalithaa today.
A huge number of the cadres checked into the wedding hall that belongs to Sri Kapali Temple on Venkatesa Agraharam Street, Mylapore – they refreshed and made their way to the Marina end.
On the Marina, the service road had turned into a parking lot for hundreds of buses that had ferried the party cadres.
Traffic movement has been curtailed at the Light House end since 6 a.m. but there was no sign of traffic jams in areas like Luz and Alwarpet.