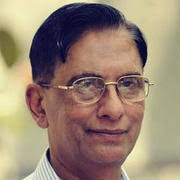 R. K. Raghavan, a former Indian police chief and diplomat and a keen student of Sanskrit has been unanimously elected as the president of the Kuppuswami Sastri Research Institute, Mylapore on Jan. 2
He was the director of the Central Bureau of Investigation.
Dr. Raghavan's family moved to  Mylapore , when he was aged seven. His grandfather C. R. Srinivasa Iyengar was deputy director of the Department of Agriculture.
Dr. Raghavan has an M. A. in politics and public administration from Madras
University, an M.S. in criminal justice from Temple University, Philadelphia, and a Ph.D. in political science.
He was a Visiting Fellow at Rutgers University and the Harvard Law School.
He was the Director General of Tamil Nadu's state vigilance and in his 15-year stint with the Intelligence Bureau, he was posted to Shillong, Delhi and Chennai. Raghavan became the 19th CBI director in 1999. He headed Interpol in India, and set up India's first cyber crime investigation cell.
He was India's High Commissioner to Cyprus and got back to Chennai a few months ago.