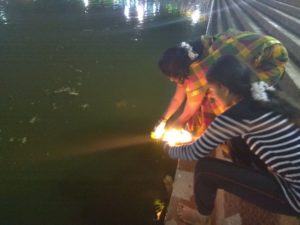 The managers of Sri Kapali Temple have advised people not to head to the temple tank for the teppam festival starting Jan.28 ( on till Jan.30) in keeping with pandemic time regulations.
The temple's executive officer told Mylapore Times that only priests, odhuvars, artistes, officials and others needed for the teppam will be allowed entry into the tank.
Even the teppam float will carry only those required for the rituals every evening of the festival.
The fest is being webcast on the temple's channel on YouTube, 7 p. m. daily across three days. This is the link- https://www.youtube.com/channel/UC_hX1NoIkfPcOXJdVYIwZFw
Since the water level in the tank was not sufficient to take the float around water has been pumped into the tank recently.
File photo of past teppam used here.