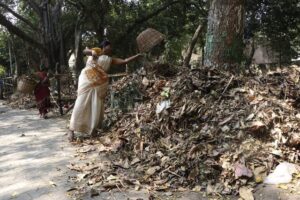 How do you process huge mounds of leaf waste that collects Nageswara Rao Park in Luz?
For now, the workers here dump the baskets of waste they clear into two or three dug-up craters, hoping it will eventually create some compost they can use in the park itself.
They say that if the leaf waste cannot be accommodated here then they get the civic agency lorry service to clear it once in a while.
Civic activists suggest a more active recycling programme in the park which generates a huge quantity of green waste. However, it isn't evident if people who use the park are making an effort to do this.
A fairly successful garden and leaf waste recycling project undertaken in Kotturpuram is being shared by Mylapore activists – where dry leaves get stuffed into metal cylindrical bins and compost gathers below, collected when the shutter at the bottom is opened.