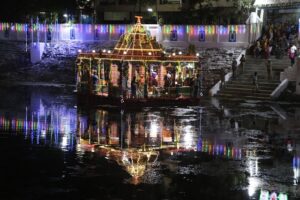 It has been a quiet, solemn and colourful teppam fest the last two evenings at the Chitrakulam.
On Thursday, if you were seated in the Chitrakulam ( yes, the steps on the south side here haven't collapsed), you would have feasted on the delight even as the music of the nagaswaram signalled the movement of the lord and his consorts into the tank, for day one of the annual teppam fest of Sri Adi Kesava Perumal Temple in Mylapore.
The teppam fest is on till Feb.15.
Day one was the Sri Adikesava Perumal teppam, Day two for Sri Adikesava Aandal teppam, Day 3 is the Adikesava Perumal teppam and thirumanjanam ritual, Day 4 is the Sri Ramar teppam and Day 5 is the Sri Peyazhwar teppam.
The illumnation on the four walls of the tank and around give the tank and the waters a colourful touch all around.