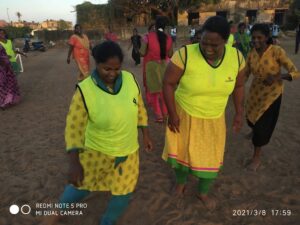 It may have been symbolic but this Women's Day gesture brought mirth and smiles to a group of women who reside off the Marina beach in the Pattinapakkam zone.
Slum Soccer is a private body which encourages boys from slums of the city to attend football coaching sessions and take their minds off the darker side of life.
It now hosts a camp on the playground alongside the Marina Loop Road in Pattinapakkam. On Women's Day ( March 8), it invited the mothers of the kids to the ground and let them dribble and pass the ball.
It was fun time and many women had a go as their wards watched from the sidelines.
Report and photo by Kavitha Benni.