K. Sankar is referred to as the 'Mestri' by the Sripatham members of Mylapore. He is their leader and anchors the conduct of the processions in many temples in Mylapore.
He has been serving as a Sri Patham in Mylapore temples for the last 25years. His forefathers too had carried the Lords of Mylapore on their shoulders for several decades. He also organizes the 'Pandal' in Mylapore temples during the big utsavams.
The group comprising of 60 members perform service as Sripatham in multiple temples in Mylapore including Kapaleeswarar, Madhava Perumal, Kesava Perumal, Mari Chetty Venkatesa Perumal and Karaneeswarar Temple.
Sankar told the Mylapore Times this morning that only the Kapaleeswarar temple has been organizing 'Ul Purappadu' during the current lockdown and that every other temple where they perform this service has stopped even the internal procession.
The street processions have remained restricted since April 10 this year.
Sankar now plans to meet the HR &CE state minister this week to bring to his  the notice the challenges of the Sripatham in all temples.
"I will be meeting the HR & CE minister Shri Sekar Babu on Wednesday to present before him the current plight of the Sri Patham members as a result of the restrictions on processions. If devotees are allowed inside temples and at least Ul Purappadu' is allowed, we will get some sambhavanai for our services. Over the last month or so, with the processions coming to a halt, a majority of our members have been facing severe financial challenges. So many families depend on this for their livelihood."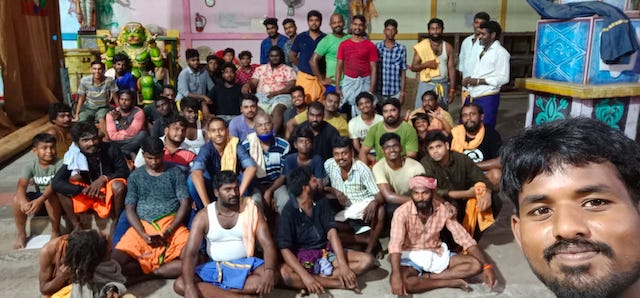 He added that it was not just about the financial plight "When you perform this service, you get a lot of mental satisfaction.
He says he will also present their plea for opening of temples for devotees and inside processions with all protocols from next week.  "Not just Sri Patham, many service providers depend on temples for their livelihood."
"With the restriction on devotees' entry into temples from the last week of April, it has been a tough time not just for the Sri Patham but also for all other service providers like flower vendors and pooja items retailers. We want to bring this to the attention of the minister for him to consider taking positive action on this front."