Indrani has been on a civic worker for the last nine years. Over the last six months or so, she has been making the long trip from Tondiarpet in North Chennai to reach Abiramapuram in her Urbaser company bus at around 9pm.
Her work starts at 9.30pm and runs up to 5.30am the next morning.
Every evening, she starts off with her teammates Kavitha and Prabhavathi from Sundararajan Street in West Abiramapuram. The three of them along with driver Ramesh then get into the St Marys Road and go all the way up to the Boat Club Road end.
That is a lot of area to cover over the night hours. To keep the streets clean.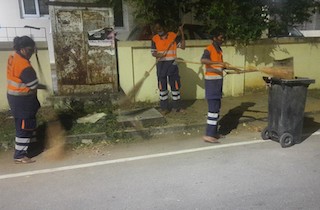 She says she is happy to continue working during the pandemic that helps keep this zone clean. "During the lockdown, the company bus picks me up from Tondiarpet and drops me in Mylapore. In the past, I used to board a bus or train using public transport to reach Mylapore."
Kavitha hails  from the temple town of Uthiramerur about 75kms from Chennai; she took up this civic job to earn a salary. The work is tough but she is at it.  "It gives us satisfaction that we are contributing in our little way to keep the city clean."
Driver Ramesh says he has been in this service for two decades. He drives the battery-run cab to load the waste and garbage onto the bins placed atop the vehicle.
Prabhavathi is their colleague and has been in this service for almost a decade now. She comes every day from Pattinampakkam.  She has a word for the community, "We have a request to residents," she says. " Do not dump waste around the street bins or on the street side."
Report and photos by S. Prabhu