Kalvi Varu Street, which runs along the Buckingham Canal, off the Mundagakanni Amman Temple MRTS station has been given a 'smart' look though over a prolonged period of time.
Now, designated spaces off the pavements on both sides of this street which links up with Kutchery Road are being greened.
This past week, workers planted saplings and the patchy rain did them a world of good too.
If the original plan is followed closely, then one side of the street from the Kutchery Road end will be thickly 'green' and also sport a few garden benches. The pathway on this side allows pedestrians to take an undisturbed walk from one end to the other, away from the vehicular traffic.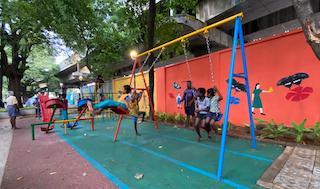 Meanwhile, local area children are using the play area here well all through the day. But rainwater stagnates in the space where the open-air mini-gym has been set up.