62 year old  R Suresh, an engineering grad, worked in the IT industry for decades.
His engineer son Saketh too followed into the IT industry. When the pandemic set in, the father son duo came up with an interesting proposition.
The father has been interested in old Tamil movies and in dance while the son is high on technology. The two have come together to create a Navarathri kolu based on four old Tamil movies – Chandralekha, Vanji Kottai Vaaliban, Konjum Salangai and Thillana Mohanambal. And tech has lent a unique touch here.
While the father suggested the movies that had high Carnatic music and dance content, the son went about tuning tech tool Alexa and creating automated content for the kolu with motorised toys. "I placed specific tasks with Alexa and created a routine based on each of the films by giving Alexa a specific command. Alexa picked up songs from Prime Music. It took several hours to fine tune the routine with Alexa."
Now even as a Navarathri kolu visitor enters their drawing room, Suresh alerts Alexa with a request to showcase to them each of the four movies.
The artistes in each of the movies have been created using close to the 100 Barbie dolls that Suresh has collected over the last many years. For example, for Thillana Mohanambal, there are nagaswaram troupe based decorations.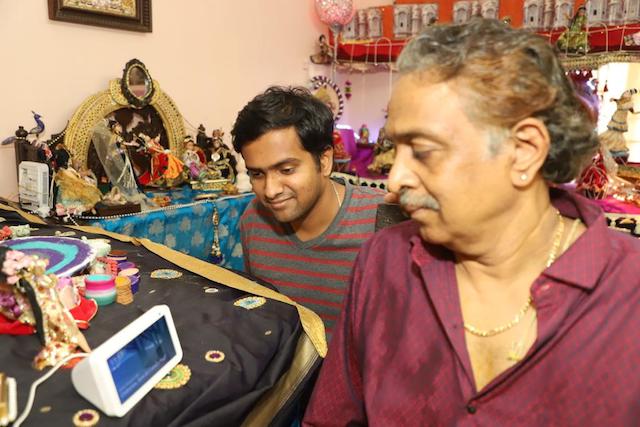 Suresh has been involved with alankarams for the last 35 years.  This year, Suresh has created a one of its kind 'Raasa Kreeda with Pinnal Kolattam'Golu based on a dance theme and the big sized dolls he had brought from Kolkatta.
He began ideating for this year's Navarathri kolu three months ago. Once the idea had been conceptualised, he began looking at specific aspects of the kolu.
Typically, some 20 families visit his kolu each day of the festival. With Suresh's kolu being a very popular one in the neighbourhood, he has thrown open the invitation to friends and relatives to attend through the day.
He says the guests this year is back to pre Covid days with all his regulars visiting. "They had missed out last year because of the pandemic and hence were eager to take a physical look this year. The size of the kolu too is back to old times occupying the entire hall and another extra room for the tech based kolu."
Suresh and his family  are residents of Norton Third Street, Mandavelipakkam.
Report and photo by S. Prabhu