There was cheer and buzz, colour and smiles all around many a school campus this November 1 morning as school children of junior classes returned  to school after the long break caused by the pandemic.
Teachers welcomes the kids with flowers and checked their body temperatures, setting right masks worn by them, in case they were dropping below noses.
As suggested by the state government, to make reopening week easy and nice for the kids, the atmosphere in campuses was easy going.
Some kids wore the school uniform while others did not; no questions asked.
Outside St Joseph's Primary School's in San Thome, adjoining St Raphael's School, there was a buzz at the gates as parents dropped off their wards this morning. ( photo on top)
Inside, the mood was relaxed and expectant too as teachers carefully went through the caution steps and settled down the kids in each classroom.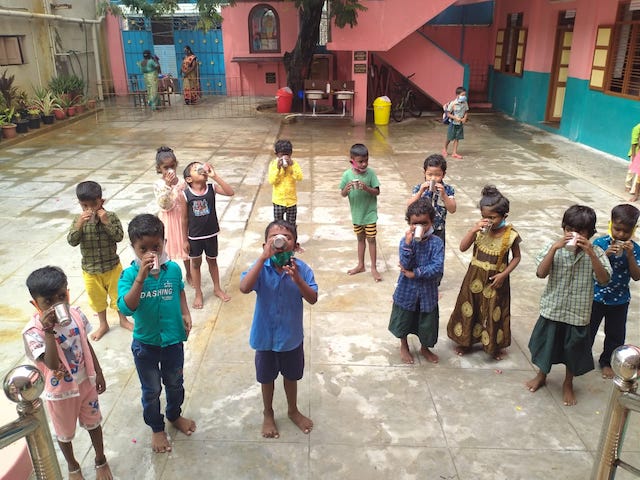 At St Lazarus Middle School off Madha Church Road in R A Puram, the kids were treated to a kanji mix as a breakfast gruel that is given to them on a regular basis since many kids skip breakfast. ( pjhoto above)
Some schools have opted for classes on alternate days for each group of students and some schools will allow parents to take time to send their kids back to school, we learn.