Motor pumps have not stopped working in many spots on and off Venkatakrishna Road in Mandaveli. They continue to pump out rainwater that flooded campuses and houses off this road, on to the road.
Since yesterday, the pumping was on in the campus of the TN CID Police Quarters diagonally opposite MTC Mandaveli bus terminus.
The pump was operational on Monday morning. As were pumps fixed inside independent houses on the road where water had also seeped in on Sunday.
As it happens at monsoon time, MTC's terminus in this area was also flooded but bus services were operational.
GCC workers teams are seen working all over where water logging is severe.  At the north end of C P Ramaswamy Road, on the west side where there are no drains, water logging was so severe that it entered shops lining this side of the road.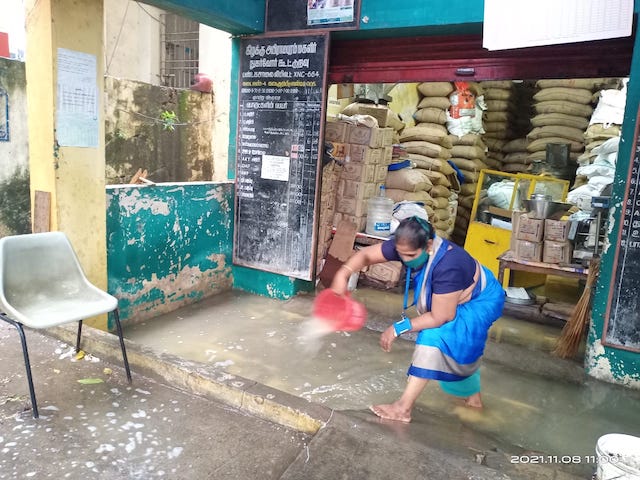 The scene at the ration store in the GCC complex here was pathetic; not only did water seep across the floor, but it bubbled up inside, as recurring headache – loads of rice and grains are lying in the water as staff tried to clear the water.
In many places like in R A Puram where streets were flooded on Sunday, the water had cleared off the streets.
Photos by Kathiravan / MT