This was a light cultural meet meant for students of the Mylapore zone to 'feel good" even as they settled to daily classes after schools re-opened.
Held on a recent weekend at the Dakshinamurthy auditorium in P. S. School campus in Mylapore, teams from 15 local area schools took part in various contests held through the day.
Clement who heads the San Thome-based NGO, Anbin Padhai mooted the idea and curated the event and Mylapore MLA, Dha Velu, under the banner of 'Enga Mylapore' lent support with the booking of the hall and arranging for prizes and a rolling trophy for the school team topping the cul-fest.
"We wanted students to express themselves and go easy after being stuck at home for months due to the pandemic," said Clement, who is in the business of event and wedding management.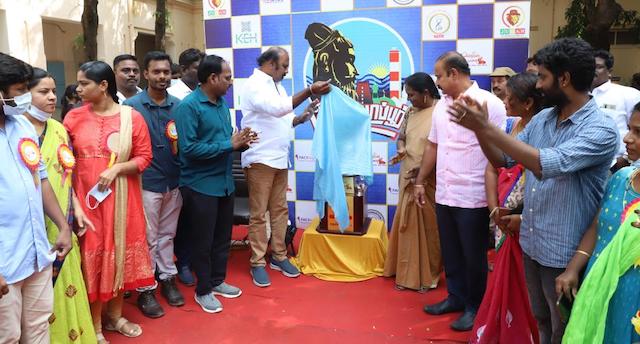 The MLA also arranged for lunch to all the participants.
Clement says the prize-giving event will be held over to this weekend where he expects Chennai South parliamentarian Thamizhachi Thangapandian to grace the function at the P. S. School venue.
2nd photo shows MLA unveiling the rolling trophy for best team of the cul-fest