Besides the Mayana Kollai tradition that is carried out in Mylapore, the same is also honoured in the far south end of this zone – in south Raja Annamalai Puram.
For years, the ritual has been performed in the GCC playground off R K Mutt Road.
But this year, the community had to seek a new place because the ground has been taken over by Chennai Metro for its ongoing underground rail project.
 And so the rituals were performed in an open space off the TN Music College campus, close to the ground.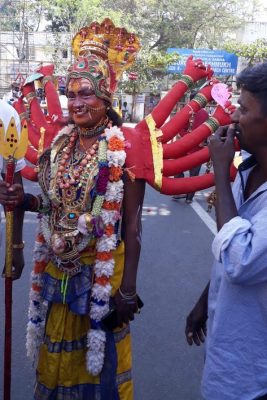 The procession started from the Sri Angala Parameswari Amman Temple in Narayanaswami Thottam R. A. Puram and ended at this open space, where the final rituals were performed by people.
Report had inputs from Kathiravan