The City of Irvine honoured Ramya Harishankar and Harish Murthy, both born and raised in Mylapore and 4th generation Mylaporeans, as 'Distinguished Citizens' and placed their names on a 'Wall of Recognition' created for such honourees at the Bill Barber Memorial Park in Irvine.
Established in 2006, the wall recognises individuals, groups, organisations, and businesses who have made significant contributions to the community. To date more than 400 individuals and organisations have been included on the Wall.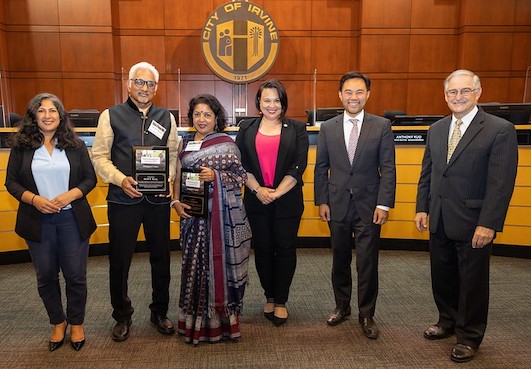 Ramya Harishankar and Harish Murthy came to Irvine in 1981 from Chennai and have been full time residents since 1982. Their contributions individually and collectively have contributed to and enhanced the cultural landscape of the city.
Ramya established the Arpana School of Dance in 1982 just completing 40 years of teaching, producing, and presenting traditional Indian dance in the City and beyond. She has been feted with many awards and has toured worldwide and many of her tours and performances have raised funds, over $100000, for significant charities.
Harish Murthy's philanthropic and community service contributions started early in his career with the Multi-Cultural Arts Council of Orange County, as a Board Member and spearheading the Kaleidoscope Festival' a model for many multi-cultural festivals celebrating the diversity of the community.
Trading his corporate and business endeavoUrs to a life of philanthropy and volunteerism since the early 2000s, he has dedicated his support largely for cultural, civic and community affairs in Irvine. Over the last 2 decades, the Ektaa Center, which he co-founded with Ramya, has evolved as one of the premier cultural organisations in Orange County.
Active and involved in civic matters, he served on the Senior Citizens Council of the City of Irvine.
The two of them were recognised at a special event during the regular meeting of the City Council on June 14.
Harish and Ramya are both great grandchildren of prominent Mylaporean, late T R Venkatrama Sastri: Ramya's maternal grandparents were the  renowned tennis player/lawyer, T B Balagopal and social activist/co-founder of Children's Club, Pattu Balagopal.
Contact email – harish@indoamericanarts.com