Mylapore MLA Dha Velu has been having regular meetings with the residents of Govindaswamy Nagar in R. A. Puram who had lived for years on the banks of the Buckingham Canal and were ordered  to be cleared out by a court order following a case filed by a private person.
A long. stiff protest by nagar's community had followed ( one person immolated himself and died) after the state machinery demolished a few houses after asking these families to occupy flats given to them in the city'd periphery.
The protest became intense and chief minister M K Stalin promised the community that they would be given accommodation inside the city.
The MLA has to find a solution quickly in order to meet a legal need in this case and Velu says he has involved state officials in the daily meetings held locally.
"Our priority now is to provide housing to families who are still staying in the nagar but must move out for the complete demolition to be carried out," says the MLA.
State officials have located some 100 flats built by the state off Anna Salai ( near the JBAS College junction) and some 30 flats in Kotturpuram. Allocation will follow, says the MLA.
"The people who moved out to the outskirts have been complaining a lot and want to get residences here," admits the MLA. "We are going to get spaces for them in the new blocks that are coming up and are planned now in the Mylapore zone."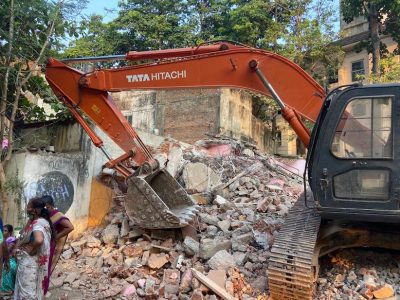 The MLA says he has asked the state officials to give an assurance to the families already resettled elsewhere of housing in the city.
He says some opposition parties are asking people not to vacate, promising them pattas. Says Velu, "These people are creating confusion but residents appreciate the issues and the legal standing. I am convinced this issue can be sorted out well."
Second photo was shot when demolition was undertaken some months ago