The batchmates of Vidya Mandir, Mylapore: class of 1996 celebrated their 25+ years Reunion across multiple global locations, during the weekend of 2nd/3rd July.
About 40 students attended the Chennai Reunion in Besant Nagar ( seen in 2nd photo) , while around 20 were present at the US Reunion in Dallas, Texas.
The Chennai Reunion's agenda included a presentation on the history of the school, speeches by the school pupil leaders from the 1996 batch (Narayan & Manasi) and some Carnatic vocal melodies by fellow batchmate D B Ashvin, who is a regular at the December margazhi music festival.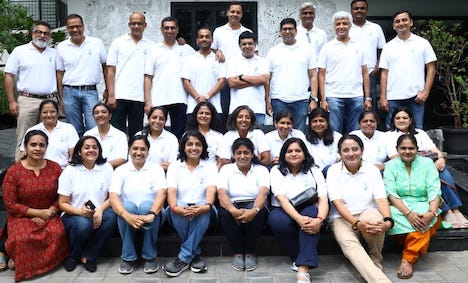 The US group ( seen in 1st photo) decided to re-live their culturals / extra curricular moments from schooldays by playing some competitive Dumb Charades based on movies and songs. After some good entertainment and delicious food, the former students jumped on a Zoom call to chat with their batchmates across the globe.
In addition to around 60 people co-located in India (Chennai) + US (Dallas) during this Reunion, another 20 batchmates joined the video conference from Singapore, Dubai, UK, Australia, New Zealand and a few other cities in India/US.
A recollection of childhood pranks, famous teacher quirks and other wonderful memories took the centre stage, while renewed talents and some newly acquired skills were on display as well through some fun and interactive games.
The batchmates thoroughly enjoyed a trip down the memory lane, paying tributes to teachers, staff and seniors in their conversation.
Despite the uncertainty posed by the pandemic, the spirit of Vidya Mandir really brought these students together both in-person & online – truly a testament to the school's traditional values of togetherness, inclusive nature, creative mindset, well-rounded focus which is evident from its star-studded alumni in various fields and a long standing reputation from the 1980s and 1990s of being a role model school for co-education & extra-curriculum.
The Reunion was possible thanks to the Chennai batch volunteers: Shuba, Sangeetha, Nrithya, Sowmya P, Priya and US batch volunteers: Sudip, G Chitra and K C Jayanth.
– Reported by K. C.Jayanth / Vidya Mandir Class of 1996, residing in Los Angeles, California, US. Contact – kcjayanth@gmail.com