The curtains have come down on a unique, curated event – the Tamizh Puthaga Nanbargal meet-ups.
Writers Rajesh Kumar and Dr. Thamarai Haribabu were presented with TAG Corporation Life Time Achievement Award and cash prize of Rs 75,000 by Justice Prabha Sridevan at a Sunday event at TAG Centre, TTK Road, Alwarpet.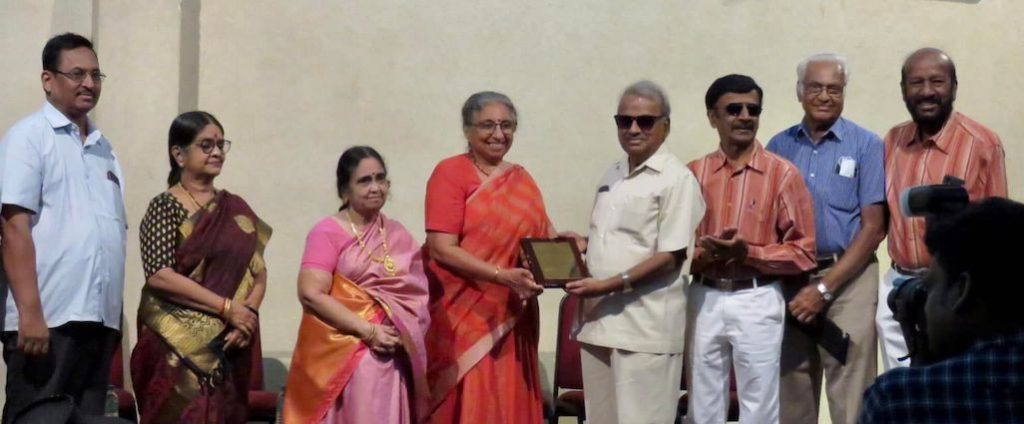 Tamizh Puthaga Nanbargal was an initiative of R. T. Chari, R V Rajan, late Charukesi and Ravi Tamizhvanan – started about eight years ago.  Every month a Thamizh book would be chosen for review and a chosen reviewer would present the review in about 30 minutes, before the audience.
In the finale meeting for the  calendar year, the best reviewer would be chosen by a panel and a cash award would be presented to the winner. A compilation of the reviews would also be published as a book every year.  Compuprint produced the book.
An omnibus of all the 62 reviews was compiled by Vallabha Srinivasan and was released at the finale. As Girija Raghavan, editor of 'Ladies Special' magazine remarked, "This compilation would be a valuable reference material on Thamizh publishing and authors. "
Lena Tamilvanan, in his introductory speech, mentioned that his grievance of novelists writing crime / detective fiction not being recognised, was rectified by the award to Rajesh Kumar, who has written a phenomenal number of crime novels.
Dr Thamari Haribabu, who was also honoured, has delivered over 5000 babies and has also written acclaimed Thamizh books. She has the rare talent and ability to recite all the 4000 Divya Prabhandams.
As a host, Chari once again demonstrated his capacity of curating and successfully conducting an interesting finale.
– Report, photos: A. S. Diwakar