It was a busy evening at the Madhava Perumal Temple on Wednesday (Aug 10) with Prabhandham recital, Vedic chanting, Homam and devotees going around the kundam for five hours starting at 5pm.
The evening began with over 10 members reciting close to 300 verses from the Nalayira Divya Prabhandham and Vaishnavite Acharya Manavala Mamunigal's Upadesa Rathna Maalai in front of Utsava deity, who was glittering with jewels across his chest and a crown on his head that provided a princely feeling to the Lord.
Alankaram on each of the three evenings was a special highlight of the utsavam.
Several kilograms of ghee offered by the devotees were poured into the homa kundam, lighting the fire as the priests began their chanting.
Well after 7pm, devotees came in, in good numbers to witness the Maha Poornahati, the culmination of the Pavitrotsavam.
It was 8.30pm when the Kainkaryam personnel began their presentation of the Vedas in front of the Moolavar deity. It was almost 9.30pm when Parthasarathy, the long standing and devotionally committed Paricharakar of the temple presented with great devotion the Sama Veda.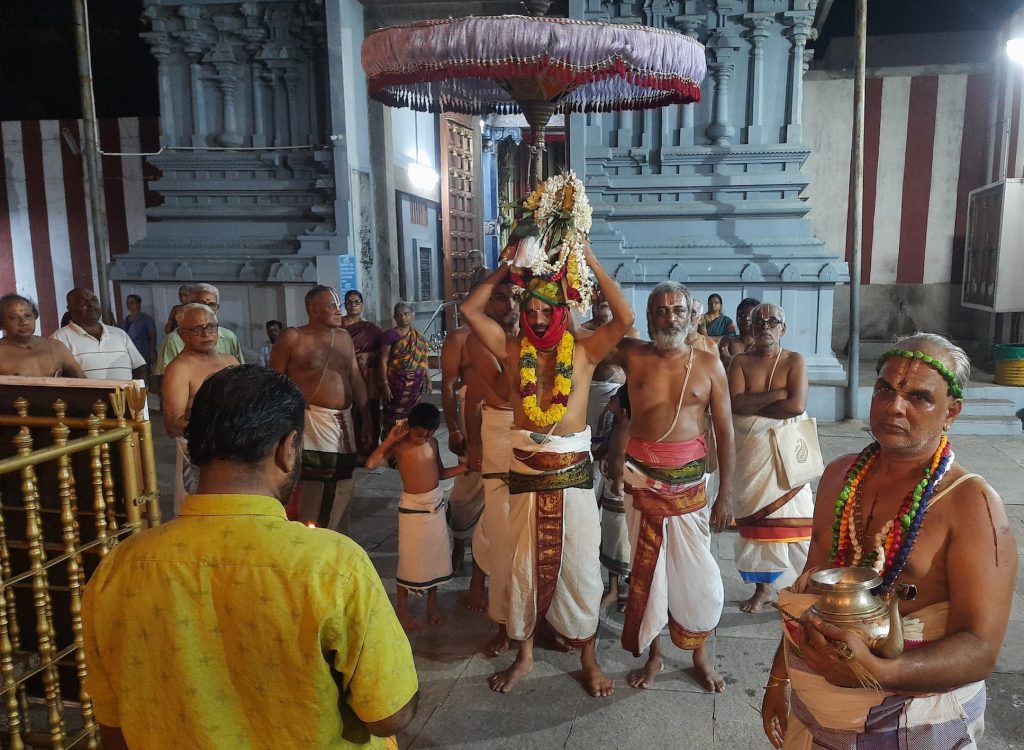 This year's Pavitrotsavam ended at 10pm with the presentation of the final verses from the Divya Prabhandham and the distribution of chakkarai pongal and puliyodharai to the devotees who stayed back late into the evening to witness the utsavam that is performed to cleanse sins.
With the completion of the Pavitrotsavam, it is likely that the pre renovation exercise will take place soon and repair works at the temple is expected to start within the next fortnight to a month.
Report, photos: S. Prabhu