A group of residents of Seethammal Colony in Alwarpet led by Mylapore MLA, Dha Velu called on chief minister M. K. Stalin at the Secretariat to thank him for the newly-laid storm water drains system in the colony.
This area has been badly affected by flooding during the monsoon, with water entering the houses and lower level flats here. Many people have moved out of the area in recent times.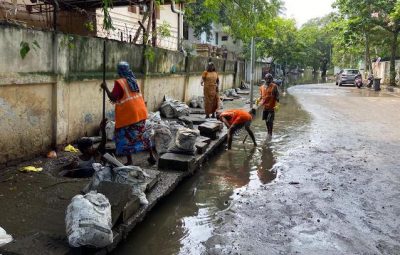 Though the drains have been constructed the muck, gravel and other accessories used here and dumped on the sidewalks have not been cleared.
Now that the main street in the colony serves as the 'diversion' route with Metro rail work on TTK Road, the non clearance of construction materials poses problems to bikes and pedestrians, said one shop keeper here.
Second photo is from the file – of civic workers on the job in the colony during a previous monsoon season