Mylaporean Janaki Ramanathan and a few friends visited Sri Kapaleeswarar Temple for Shivarathri on Saturday night.
This is, in Janaki's words, their experience –
This is my first experience of a whole night spent at Sri Kapali Kovil in my nearly 20 years as a Mylaporean.
Sadly, what I had hoped for – a spiritually energising and calming experience turned out to be one that I will want to forget.
The plans for movement of devotees was not properly planned or executed.  And all around the temple precincts, though there were trash bins, people were throwing the prasadam cups all over. And some VIPs seemed to get more importance.
People were using the drinking water to wash themselves.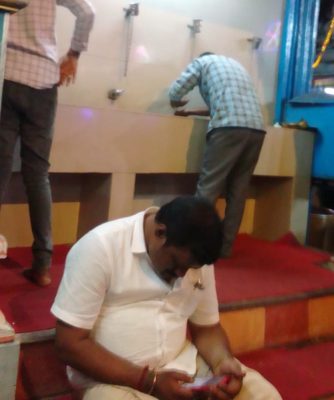 My friends and I met around 8.30 p.m. at the temple and we were able to go into the sanctum of the deities only around 2 a.m.
There was abysmal lack of responsibility on part of devotees. So was the case with the volunteers and the police. It is obvious that there is a need for a dedicated and well-planned and strictly implemented waste disposal system and for the seamless movement of devotees.
The temple's cleaning staff blamed people for not throwing trash in bins. They had a point.
Footwear management was pathetic – it was horrible to see heaps of footwear covering the entire entrance from the eastern gopuram pathway to Giri Trading shop.
When such a huge number of people congregate, there is a need for toilets. We went outside and stepped into Bharatiya Vidya Bhavan premises to use their washrooms.