Vedantha Desikar Srinivasa Perumal Temple is abuzz well after midnight on Friday.
There are over a 100 service personnel, a majority of whom are the traditional Sripatham members, at the temple ahead of Srinivasa Perumal's departure for the first ever Theppotsavam to be held in Madipakkam on Saturday evening.
Trustee Mukundan is present to oversee the activities and to ensure that all goes as per plan. The beating of the drums inside the temple complex adds to the buzz.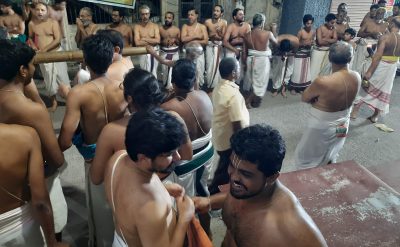 It is 1.30am when the Prabhandham members begin the recital of the sacred verses and soon Srinivasa Perumal is on his way for the night long procession to Madipakkam.
Prabhandham Ghosti lead the procession while Vedic members follow the Lord on the procession.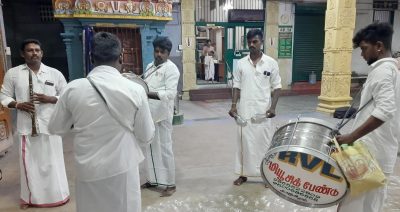 An interesting feature of this 20km trip is that the Sripatham members are carrying the Lord in the traditional way on their shoulders.
There will be a Thirumanjanam at 9.30am on Saturday at the Oppiliappan Ramar temple in Madipakkam while Srinivasa Perumal will leave for the Theppam at 5.30pm.
Lord Srinivasa Perumal will start his return trip from Madipakkam around 10pm on Saturday.
 – Story, photos by S Prabhu