Engal Mylai, an umbrella voluntary body ideated by Mylapore MLA, Dha Velu is hosting a meeting on May 28 in Mandaveli for the heads of all Mylapore zone residents' associations to discuss prime issues that need attention.
The meet starts at 4.30 p.m. at Narayani Kalyana Mantapam. 1st Cross St., Jeth Nagar, with high tea and allows each association head to make snappy presentations, followed by the MLA's response.
This is an open invitation to all leaders of associations in the Mylapore zone.
Prior registration by participants not required.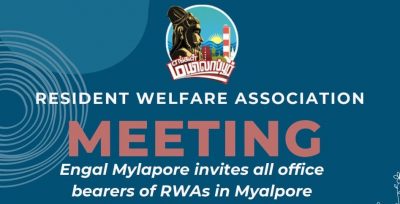 Says Velu, "All associations can participate. This meet is mainly being held to discuss key developments in and for Mylapore and for RWA heads to present them to us."
File photo used here shows the MLA with residents of R A Puram on a previous walk-around the zone