Krishnaveni, wife of P S Ramamurthy, turned 100 in September.
A resident of Mylapore for the last 86 years, she now lives in Thachi Arunachalam Street.
"My mother is still very active and does all her personal work. She was born in Vellore and lived in Bhadrachalam. She got married at the age of 14 and moved to Mylapore. My father taught Maths and Science at P S High School. He was known as PSR," says P R Raghuraman, her eldest son.
Krishnaveni has four sons and four daughters, 13 grandchildren and 14 great grandchildren.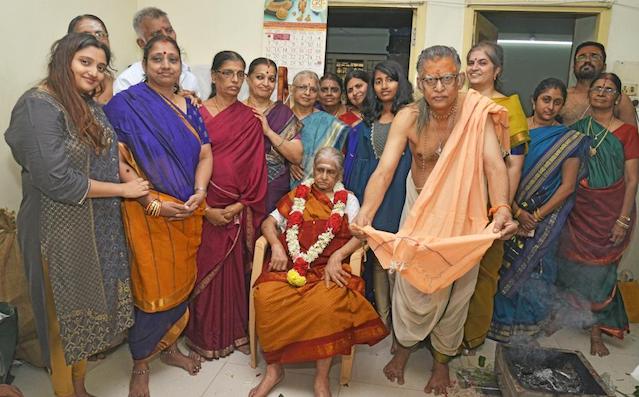 A spiritually inclined person, Krishnaveni loves reading spiritual books daily. She has been reading for 4 to 5 hours every day and she continues this practice till this day. She is a Krishna devotee and a self-sustained person, adds Raghuraman.
The family members say that Krishnaveni has good music knowledge though she did not have formal training. She used to play on the violin, veena and keyboard with ease.
Krishnaveni lives on 22/22, Thachi Arunachalam Street , Mylapore, Chennai-600004