Store for pooja articles, festival needs opens one more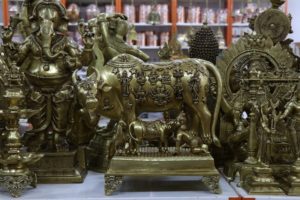 Indra Brass Pooja Metal Stores has opened a new store opposite its main store on Sannithi Street in Mylapore (near 
Sri Kapali Temple, east side). The 2000 sq.ft. store displays a variety of new brass lamps and recently produced pooja items.
"Lack of space at our main store prompted us to open a new showroom," said Sivaraman, the co-owner of the stores.  Sivaraman manages the store along with his father Paulraj.
Sivaraman says the store was started by his grandfather in 1956 and stocks a variety of brass items used for small and large poojas. "We also offer all the accessories and furniture required for rituals," he adds.
For the Navaratri season, new sets of dolls and images have also been stocked here.
Call 24954245.
This entry was posted on Monday, October 1st, 2018 and is filed under
Sales, Shopping
,
Shopping, Stores
. You can follow any responses to this entry through the
RSS 2.0
feed. You can skip to the end and leave a response. Pinging is currently not allowed.