Monsoon 2018: water does not stagnate in many areas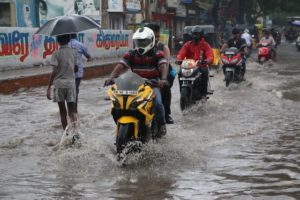 As pre-monsoon showers bathed Mylapore late on Tuesday and early on Wednesday, many streets did not witness water stagnation save for water standing in pools or patches on the edges of the roads / streets.
This is because civic workers have cleared many drains of the muck to allow for easy flow of water.
However, in some places water filled the road as the rain fell. One such place was the section of Kutchery Road bridge across Buckingham Canal ( shown in the photo here)
This entry was posted on Thursday, November 1st, 2018 and is filed under
Civic
,
Monsoon 2018
. You can follow any responses to this entry through the
RSS 2.0
feed. You can skip to the end and leave a response. Pinging is currently not allowed.