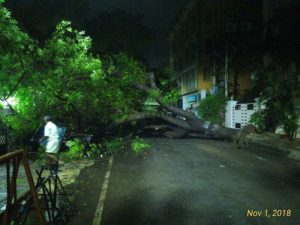 A avenue tree came crashing down on 6th Cross Street in CIT Colony this Thursday morning. A resident who shared this photo says that nobody was injured though the tree damaged a pushcart parked on this street.
Meanwhile, in many other places in Mylapore roadside trees or branches of trees were seen lying on the pavements. Also, branches which had fallen inside private property had been dumped near garbage bins at street corners.
Some residents say that Chennai Corporation and Ramky must organise clearance of fallen trees/tree branches which crash in the strong winds at monsoon time.