Apartment complex in Mylapore turns 30; has a party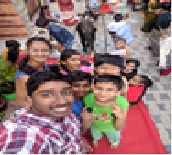 This was a unique celebration. An annual event held at an apartment complex built at a time when very few multi-storied buildings graced Mylapore's skyline.
The residents the three decade old Viswakamal Apartments at R. K. Mutt Road, Mylapore left no stone unturned to ensure that their Jan 6 event was a huge success.
In the morning, there were games for everybody, tiny tots, teenagers and seniors. After dusk, there were bullock cart races, uriyadi and rangoli contests. The event ended with a sumptuous dinner.
This entry was posted on Sunday, February 24th, 2019 and is filed under
Community
,
Uncategorized
. You can follow any responses to this entry through the
RSS 2.0
feed. You can skip to the end and leave a response. Pinging is currently not allowed.