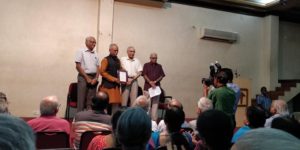 South India Heritage Lecture Series completes 17 years with a lecture this Sunday morning.
"Life and work of Adi Shankara: a contemplative journey through the life of the great saint-philosopher" was the topic and the talk was delivered by Dr. Sushila Krishnamurthi.
The venue – as always TAG Centre on TTK Road, Alwarpet.
The South India Heritage Lecture Series, the brainchild of R T Chari, with quality programmes held every month has a committed and large audience.
The series has presented a total of 317 events including 232 lectures, some music concerts and discourses, expositions, films, plays, book launches and special events.
This series has also proved to be the launch pad for many of the popular speakers in our city like Sriram V.
Admission to the programmes is by formal registration.
Reported by A. S. Diwakar. Photo shows Isaikavi Ramanan receiving the Lifetime Achievement Award given by TAG in January this year. Photo by Arkay Ramakrishnan.