Mylapore receives heavy rain but water stagnates in some areas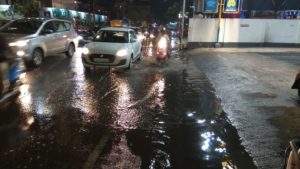 On July 23, Tuesday Mylapore received heavy rainfall in the evening from around 5 p.m. Residents of R.A. Puram who were indoors seemed very happy and enjoyed watching the rain from their balcony.
But people who were returning from work were stranded. Some of them took shelter at roadside shops on Kamarajar Salai.
The rainwater was substantial and we saw it flood on R.K. Nagar Second Cross Street, School Road and at Durgabhai Deshmukh Road in R.A.Puram
Prema Raghavan, a resident of this R.K. Nagar Second Cross Street said, "Water stagnates along both sides of our street when it rains. Storm water drains are ineffective as they are clogged with mud or waste."
She said residents had requested Chennai Corporation officials to sink cement rings at a point off this road so the water can be led deep and recharge the ground.
This entry was posted on Tuesday, July 23rd, 2019 and is filed under
Civic
,
Monsoon 2019
. You can follow any responses to this entry through the
RSS 2.0
feed. You can skip to the end and leave a response. Pinging is currently not allowed.