Team of Chennai Corporation's ward 119 grows rooftop garden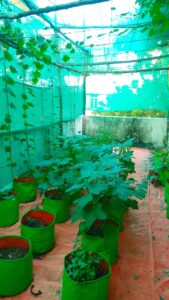 Recently, the staff at Chennai Corporation's ward 119 unit at CIT colony, Mylapore has started growing a rooftop garden.
Plants, including tomato, beans, pumpkin and more are grown here.
Guhan, AE of ward 119 says, "Since a long time, our higher officials have been asking us to grow plants wherever possible. As we have space on our terrace, we decided to start a garden."
To protect the plants from severe heat, and heavy rain or wind, the garden has been covered with a thick and translucent green coloured cloth.
"Our workers are enthusiastically taking care of the plants. The veggies will be given to them," says Guhan.
This entry was posted on Saturday, September 21st, 2019 and is filed under
Civic
,
Govt. Agencies
. You can follow any responses to this entry through the
RSS 2.0
feed. You can skip to the end and leave a response. Pinging is currently not allowed.