Kindergarten students of P. S. Senior talk about water conservation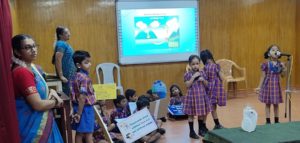 Talks and songs on conservation of water marked the 'Science Activity Day' celebrations held at P. S. Senior Secondary School, Mylapore on Nov. 22.
The event, which was held for UKG children, also included small experiments on buoyancy and solubility. The children who came dressed in blue also put up colourful charts and banners.
This entry was posted on Friday, November 29th, 2019 and is filed under
Campus News
,
Community
. You can follow any responses to this entry through the
RSS 2.0
feed. You can skip to the end and leave a response. Pinging is currently not allowed.