InKo Centre releases e-compendium to celebrate young artists of India and Korea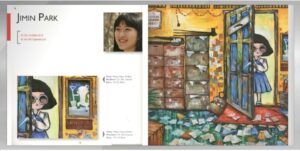 To celebrate the budding artists of India and Korea, InKo centre in R.A.Puram has put out an e-compendium, showcasing their paintings.
It was published on its website on July 16, as part of its ongoing virtual connect programme.
Called 'Emerging Canvas', the e-compendium features paintings of 132 young artists of India and Korea.
Spanning across 247 pages, it highlights a range of unique paintings made of wood, acrylic paints, oil, and terracotta installations.
The paintings were earlier exhibited at InKo Centre and at the Indian Art Museum in Seoul and in Chennai, across 6 editions from 2012 to 2019.
The Emerging Canvas series was first launched by Inko centre in association with The Indian Art Museum in Korea in the year 2012 to identify and celebrate emerging young talent from both countries.
The e-compendium can be viewed at http://www.inkocentre.org/Virtual_Connect_Infotainment.html
At 18, Adyar Club Gate Road, R.A. Puram. Ph: 24361224.
Picture: screengrab of the e-compendium; courtesy: InKo Centre
This entry was posted on Friday, July 17th, 2020 and is filed under
Corona Virus News
,
Lifestyle, Stores
. You can follow any responses to this entry through the
RSS 2.0
feed. You can skip to the end and leave a response. Pinging is currently not allowed.