Chennai Metro Rail: soil test work restarts in San Thome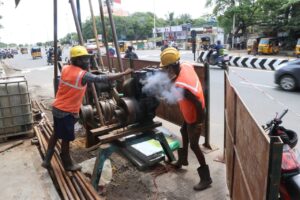 Contract workers hired for Chennai Metro Rail's projects have re- started work in the San Thome region.
Many of them were seen working at some spots on Kamaraj Salai ( Marina road) around All India Radio and the Light House).
They were engaged in soil testing work.
One phase of Chennai Metro, planned for the near future is to have a start/end point in the Light House zone with the lines running through Kutchery Road, towards Luz and westwards to link with the Chennai Metro line that runs north-south with a station in Teynampet among the rest on that line.
This entry was posted on Friday, August 7th, 2020 and is filed under
Chennai Metro
,
Civic
. You can follow any responses to this entry through the
RSS 2.0
feed. You can skip to the end and leave a response. Pinging is currently not allowed.