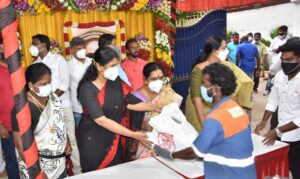 To mark the second death anniversary of M. Karunanidhi, DMK leader and former chief minister of Tamil Nadu, his daughter and Member of Parliament, Kanimozhi handed over packs of provisions to civic workers and the poor this morning.
The event took place at her residence in CIT Colony, Mylapore.
A decorated shamiana was raised near the gate of her residence and a portrait of Karunanidhi, decorated with flowers was placed here for party cadres and the public to pay homage.