One group of margazhi bhajan singers is being missed this season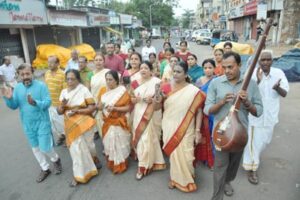 One familiar group who make the community of margazhi bhajan singers has been missed this season.
The group draws its heritage to musician-composer-singer Papanasam Sivan who used to lead a group in his time.
Sivam's daughter, Rukmini Ramani used to lead this group of mostly women down the mada streets of Mylapore but this year she decided to give it a skip due to the virus situation.
"Some of us are old and we didn't want to take the risk,"she said.
This entry was posted on Tuesday, December 29th, 2020 and is filed under
Religious
,
Uncategorized
. You can follow any responses to this entry through the
RSS 2.0
feed. You can skip to the end and leave a response. Pinging is currently not allowed.