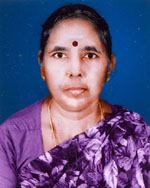 V. Padmavathy aged 74 years, a resident of Mylapore over a period of four decades passed away on April 10.
She was a renowned Tamil Pandit in Lady Sivaswamy Iyer Girls Higher Secondary School, Mylapore for over 3 decades. She was a friend, philosopher and guide to her students.
She is survived by her husband V. Srinivasan, a retired Tamil teacher of P. S. Hr Secondary School, Mylapore and a daughter, S. Malini.
The last rites will be performed at Mylapore Kapaleeswarar tank on April 25. Her family lives in D-10, C. D. S. Avenue Vandikkaran St., Velachery.