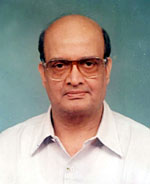 K. C. Srivatsa,  a partner of the famed auction house, Murray & Co., passed away on March 20. He was a resident of Raja Annamalaipuram. He was 72.
Born to the illustrious philosopher
K. Vardachari,  his early years were  spent at Tirupati where academic life vied with sports, particularly cricket.
After moving to Chennai he came under the aegis of 'Murray' S. Rajam who became a mentor and later turned  out to be 'in loco parents' to him.
Srivatsa soon became a partner in Murray and Co., joining Rajam and others.
Under their administration Murray and Co., reached a high level of excellence with a conscious bias in favour of
ethical behaviour.
The integrity of Srivatsa along with his mentor was the cardinal pillar on which the institution rested.
His loyalty to his mentor and his wife Thangamani was legendary. Not a day passed without his spending time with both of them during their lifetime.
Srivatsa was also actively involved in various charitable Trusts including Shanthi Sadana Trust and other trusts founded by Rajam for the promotion of Thamizh studies.
Srivatsa had a deep interest in archaeology, literature and antiques, besides painting and music. Srivatsa leaves behind his wife Sakunthala and sons Jaywant and Hemant.
The family lives at 'Rathan', 2, Greenways Road Extn. Phone – 2461 8141.