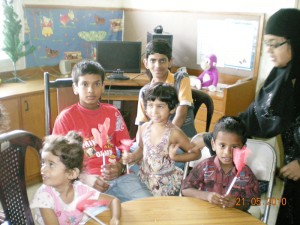 It was a summer camp of a different kind that took place last week at Mandaveli.
The Sadhya Educational Trust for Hearing Impaired had a craft workshop for hearing impaired children that not only taught them how to create things out of paper but also reinforced language skills.
Neela Govindaraj, director and managing trustee hosted sessions for parents and children at which parents are briefed on how to communicate with the child using some of the methods employed at the camp.
Children made a paper plate and then created a duck out of it. The sounds of 'duck, quack quack' were created so that they could catch hold the concepts.
Gestures are not used, says Neela as the children would not make the effort to recognise the sound and concept if it is spoon-fed to them this way.
Out of a bag was produced a dog with the "bow wow" sound created as an effect, and as this caught the attention of the kids, the tail, eyes, ears and snout of the dog were pointed out in turn.
Such children, says Neela feel a sense of isolation as they do not hear what is said nor do they perceive and understand concepts even though they see them.
Repetition and patience is the key to building a rapport with them. The centre is at 261, R K Math Road, R. A. Puram. Phone – 93806 38516