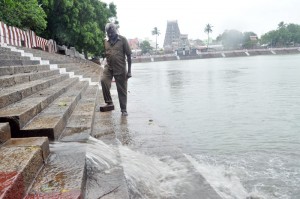 By Our Staff Reporter
Cyclone Laila which braced the city brought a smile to everybody's face.
For a city that has been experiencing the worst of summer with temperatures at 39 degrees, the cyclonic weather on Wednesday brought abundant rain.
But it also tested the civic systems and caused some damage.
In Mylapore, many inner streets were flooded. Water remained stagnant because the drains were clogged.
But most main roads were free of rainwater ours after the downpour stopped.
At the tank of Sri Kapali Temple, rainwater from the neighbourhood drains gushed into the tank and raised the level of the water here. (photo shows)
This has been possible because the network of local stormwater drains have been well connected to the huge tank.
In many places, like Warren Road and Abhiramapuram a few avenue trees collapsed due to the strong winds.
Workers of Chennai Corporation responded though and cleared the fallen trees.
The city gets little rain when the south-west monsoon breaks out at this time of the year.