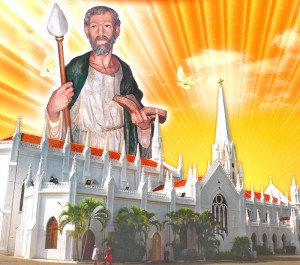 The feast of St. Thomas started on June 25 at the National Shrine of St. Thomas Basilica, San Thome.
The feast start with the flag hoisting and solemn High Mass by Auxiliary Bishop Rev. Dr. Lawrence Pius.
Since the year of priests draws to a close now, the priests who served at the cathedral were honoured.
There are Masses in the morning and in the evening.
The car procession is on July 3 and the feast is celebrated on July 4. The fest will be celebrated till July 7.
More details can be had from the church office. Phone: 2498 5455/ 2498 0757
Check the photo gallery page for pictures of the feast. You can also see a  short video of the event that we have posted at www.mylapore.tv.