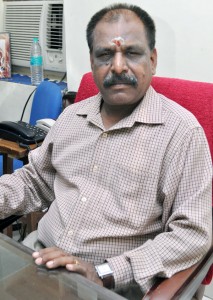 By Geetha Iyengar
Kapaleeswarar Temple has a new Executive Officer now.
R. Selvaraj, who holds the rank of Deputy Commissioner took over as E.O. at the temple from M. Devendran on April 17.
Selvaraj has had a record of service in a similar capacity at Kanchipuram and Cuddalore also.
His duties will cover all administrative affairs that govern the temple, maintenance of the premises, recording and safeguarding the temple property that run into large tracts in many parts of the neighbourhood.
Selvaraj says it is of prime importance to safeguard temple property and to keep a hawk's eye over encroachments that have to be forestalled, based on intelligence. This is the most challenging job, he says as any encroachment has to go through tedious and long drawn legal procedures.
Building a compound wall to demarcate the property is step one, he says.
His comments come against the recent move by the state to recover extensive properties gifted to and owned by temples or rented out at paltry sums which have been enjoyed by tenants and the demand by Left parties that the hiked rentals must be made reasonable.
A large piece of land measuring 48 grounds on Greenways Road, R. A. Puram is one of the first to receive the attention of Kapali Temple authorities. A modern kalyana mantapam will come up on this land. To be built at a Rs. 2 crores, the mantapam will have all modern facilities and the foundation stone will be laid on June 4 by H R and C E minister, Periakaruppan. (CHK)
The temple-owned Karpagambal Kalyana Mantapam near Sai Baba Temple in Mylapore has been of service for many middle class families.
Maintaining the temple and cleaning it has been outsourced.
Selvaraj can be contacted at his office – 2464 1670 .