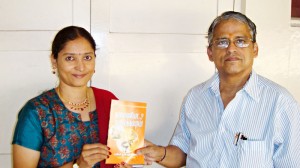 By Our Staff Reporter
Do you have chronic headache that keeps bothering you? Have you been getting headaches after going out in the sun or working in front of a computer for long hours?
Perhaps you may want to know the reasons behind these problems.
Now, a new book in Thamizh has come out and it focuses only on headaches.
'Thalai Valiyaa Thavirkkalaam' is a book that focuses on migraine and various types of headaches and tells you the reasons for the cause and ways in which they can be treated.
The book has been written by two residents of Raja Annamalaipuram – Dr. A. V. Srinivasan and writer Lakshmi Mohan and it is published by Vikatan Publications, Chennai. The book is for a layman and the style of writing is simple.
The various chapters explain the types of headaches, symptoms, diagnosis, treatment, therapy, prevention and on the lifestyle changes one has to make in order to avoid headaches. A question and answer section is also featured.
The book is available at all leading book stores and at Dr. A. V. Srinivasan's clinic. The clinic is open from 4 p. m. -10 p. m. The address: AVS Clinic is located at 20, 2nd Main Road, R. A. Puram. Ph: 2461 6943.