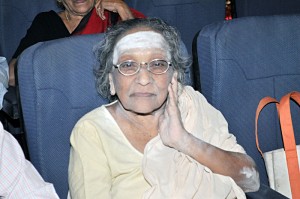 Vidya Shankar (90), well-known vainika, musicologist and teacher passed away on June 29, 8 a.m. at her residence in Mylapore.
She was the wife of late V. S. Shankar and the daughter of late C. S. Ayyar, one of the founders of The Music Academy.
Her brother was famed scientist and Nobel Laureate Dr. S. Chandrasekar. Another Nobel Laureate, Dr C V Raman was her uncle.
She was awarded the 'Veenavadana' award by the Veena Foundation.
She was also the member of The Music Academy Expert Committee.
She wrote many books on Carnatic music.
She was decorated with the Sangeet Natak Akademi award among other titles.
She is survived by three sons – V. S. Shivakumar, V. S. Mahesh, Dr. V. S. Sundar.
Her family can be reached at 044-2847 5543. They live on a street off Dr. Radhakrishnan Salai.