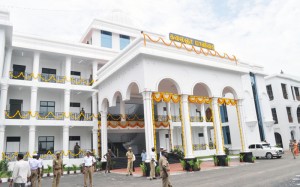 The inauguration of the new building of Queen Mary's College, Chennai took place today, July 22 at 11 a.m. by the Chief Minister of Tamil Nadu.
The new building is called Kalaignar Maligai. Many dignitaries, alumni and students were present at the opening ceremony.
The building has come up on the site where Capper House once stood. Capper House used to be the residence of a Britisher. It then became a hotel and later, part of the college campus in 1915. The structure fell into disuse and was demolished.
When J. Jayalalithaa was in power as the Chief Minister she had plans to build a new Secretariat on this campus. But the project was put off, following protests by students and citizens.
The college can be reached at 42029416.